For more than ten years the pan-European design collective Underware has been creating versatile fonts, surfing the waves, conducting type workshops, running the radio station Typeradio, throwing cannon balls, experimenting with blood, practicing kamikaze chess; but mostly, they gave flowers for their mothers and turned them into a cover girl. Which resulted in an everlasting smile on their faces.
The company was founded in 1999 by
Akiem Helmling
,
Bas Jacobs
and
Sami Kortemäki
. We are based in
Den Haag
,
Helsinki
and
Amsterdam
. If you want to be kept up-to-date about Underware's activities, please subscribe to the
email newsletter
.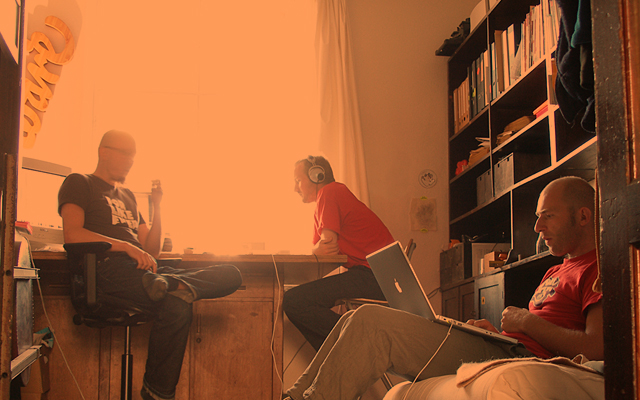 Underware says big thanks to Hugo Cavalheiro d'Alte, Ken Barber, Donald Beekman, Peter Bil'ak, Henrik Birkvig, Noe Blanco, Evert Bloemsma, Ineke Boerrigter, Markus Brilling, Peter Buennagel, JoanCarles Pérez Casasín, Eline van Dam, Karina Dimitriu, John Downer, Marcel van der Drift, Finn Dubbelboer, Liza Enebeis, Gustavo Ferreira, Henk Gianotten, Henk Gregoire, Lucas de Groot, Cyrus Highsmith, Antti Hinkula, Allen Hori, John Hudson, Jaana Kärkinen, Somi Kim, Robin Kinross, Doug Kisor, Regina Klebinger, Anne Knopf, Edgar Kober, Joes Koppers, Anka Kresse, Pekka Lähde, Wilbert Leering, Ritva Leinonen, Ewan Lentjes, Tal Leming, Tuomas Lempinen, Ruud Linssen, Karsten Luecke, Luna Maurer, Eike Menijn, Jan Middendorp, Leo Pusa, Kai Rentola, Joop Ridder, Willem de Ridder, Tamye Riggs, Ashley Ringrose, Michael Rock, Karst Janneke Rogaar, Maarten de Ru, Juhani Saloranta, Sasker Scheerder, Piet Schreuders, Joel Shane, Jürgen Siebert, Edwin Smet, Frans Sondeijker, Erik Spiekermann, Yvo Sprey, Jan Willem Stas, Fokko Tamminga, Guy Tavares, Martin Tiefenthaler, Petteri Tikkanen, Adam Twardoch, Twitter, Chris Vermaas, Rick Vermeulen, Wout de Vringer, Kurt Weidemann, Lennart Wienecke, Roel Wouters and to many others who often give us a helping hand.